Online support for the modern parent
From America's trusted leader in child behavior
Tell us a little about your family and get matched to a Personal Parenting Coach. Send unlimited messages and schedule weekly phone check-ins. Your Coach will review your concerns and provide step-by-step, practical techniques to help overcome parenting challenges.
Help when you need it
Get answers to your parenting questions in as little as one business day. Gain confidence and feel energized with effective strategies for disrespect and defiance, lack of motivation, failing grades and more.
Personalized resources
One size is not for everyone. That's why we take the time to know your family and offer personalized parenting support, tailored to your needs.
Private & secure
Conversations between you and your Coach are private and confidential. Everything is secured using top level SSL and 256 bit encryption.
Unlimited access
Send as many messages as you want, whenever you want. Your coach will review and respond within one business day.
We know parents
Kids don't come with instruction manuals. At Empowering Parents, we believe every parent deserves a roadmap to success. No child behavior challenge is too big or too small! Whether your child is 5 and throwing temper tantrums, or 25 and simply won't grow up, our Coaches have the experience to help you achieve your parenting goals.
150,000+
Coaching sessions
7.5 Million
Global visitors
10+ Years
Helping families online
Try eCoaching FREE for 7 days!

Meet Marissa
Empowering Parents Coach since 2011
Marissa is a proud mom to two boys, ages 10 and 5. She earned her degree in Sociology from Saint Joseph's College of Maine.
Prior to coming to Empowering Parents, Marissa worked as the House Manager of a group home for teenage boys and as a Children's Mental Health Case Manager.
Marissa's favorite part of being a Coach is the opportunity to connect with parents all over the world. In her free time, she enjoys gardening, DIY projects and the Red Sox!
Support for whatever challenge you're facing
Finding consequences that work
Avoiding power struggles
How to set rules and expectations
Homework and school issues
How to reduce strees and anxiety
Ending backtalk and disrespect
Blended families
Sibling rivalry
eCoaching is fast, convenient and secure. Send communication from just about any device with an internet connection!
Get started today!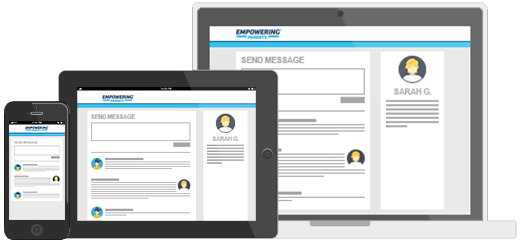 Parents eCoaching!
"I will for sure recommend any person struggling with any child and any issue to your website. I think what you do is absolutely phenomenal!"
Mimi from Australia

"I just went from tears to smiles. All I can say is AMEN!"
Parent from Seguin, TX

"I just want to thank you for sharing your expertise online... It's been a lifeline for me on a regular basis."
Father from Castle Cove, Australia

FAQs
How much does eCoaching cost?
After your 7-day trial, your eCoaching subscription will automatically renew at $99 per month.
Your eCoaching trial includes 7 days of unlimited access to your personal parenting Coach. Our Coaches dedicate considerable time and effort to your family during the trial. We want to make sure that the trial is not abused and that you are serious about achieving change in your family, so a credit card is required during initial sign-up.
If you decide eCoaching isn't for you, you can cancel at any time, for any reason.
What happens after I sign up for eCoaching?
Your answers to our parenting quiz will be reviewed by our eCoaching Team and you will be matched to a Coach within one business day. Keep an eye on your inbox - you'll receive an email once a Coach has been matched to you.
Is this live chat?
No. eCoaching is more similar to an email conversation, but better! With our custom messaging platform, you'll have unlimited access to your Coaching conversation in a password-protected space. You can log in to read and respond at any time. Our Coaching hours are Monday through Friday from 9am to 5:30pm EST.
What if I decide eCoaching isn't for me?
We'll miss working with your family, but we understand eCoaching isn't for everyone. To cancel your subscription simply contact your coach, send us an email or call Customer Service.
The trusted leader in child behavior help.
Empowering Parents has become the world's go-to source for child behavior help. With Empowering Parents eCoaching, you'll have direct access to the same tools and expertise that some of the world's leading organizations have come to trust.